2015 World's Challenge Challenge Winning Team
Title of Project/Proposal
Kugera: A sexual health and consent lesson plan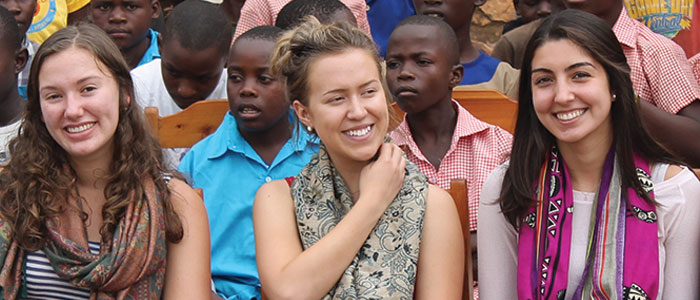 Rachel Goldstein, Brooke Porter, and Anita Dabirzadeh took part in the
Rwanda: Culture, Society and Reconstruction
course, French 3140B, in May-June 2015. These outstanding Western undergraduate students  went on to win the 2015 World's Challenge Challenge with their idea of enhancing sexual health education and learning about consent in Rwanda.
Team members
Anita Dabirzadeh, 4th year, Health Studies, Faculty of Health Sciences
Rachel Goldstein, 3rd year, School for Advanced Studies in the Arts & Humanities, Faculty of Arts & Humanities and Biology, Faculty of Sciences (Double Major)
Brooke Porter, 4th year, English Literature, Faculty of Arts & Humanities
Project Description
"[In summer 2015], our team spent 6 weeks working with various NGOs in Kigali, Rwanda as part of a community engagement learning course through Western University. Through this experience, we had the opportunity to spend a significant amount of time with hundreds of children and youth in Rwanda. One common theme that we noticed was the significant lack of sexual health education and a complete absence of consent education in their school curriculums. We saw that when sexual health was taught, it was often fragmented and left the youth with many questions and nowhere to turn to for answers. Moreover, it was clear that the country was dealing with the problem of unwanted pregnancies and sexually transmitted infections reactively, after they had already happened, rather than proactively."
"We also observed that the topic of sexual health, while not exactly a taboo, was one that parents did not feel comfortable discussing with their own children. As such, we believe that schools should be the venue where this important information is clearly and correctly taught to youth. Through discussion with various school administrators, we came to understand that teachers would be willing to teach this subject as part of their curriculum however they lacked the resources and the training to do so. For example, a high school biology teacher that we had contact with was very interested to teach this subject in his classroom but he had personally not been taught the information to adequately do so."
"As such, we wish to create a comprehensive curriculum that teachers can use to educate themselves on sexual health and consent."
The Approach
The goal of our project is to develop and distribute sexual health and consent lecture plans via USBs which do not require internet to operate.
We will begin by building up a volunteer team made up of university students in the London community. We will hand select volunteers based on their respective knowledge and area of study on the topics that our curriculum will cover. The volunteers will help us put together the information and present it in an easily accessible way. Specifically, we will target students with the following backgrounds: software/computer engineering, physiology and anatomy, health studies, women's studies, transitional justice, Media, Information and Techno-culture (MIT) studies.
We also require students who will act as translators for the following languages: based on the diverse range of students that go to Western, we know that this will not be difficult to find: Kinyarwanda, Kirundi, Swahili, French.
We will create an easily accessible program that teachers can use to educate themselves and pass it on to their students. All they will require is a computer (should they not have a personal computer, internet cafés are an easy and cheap way for citizens to access computers in West Africa.)
Before our program is distributed, we would have it evaluated by various professors at Western University to ensure that our information is accurate and communicated effectively.
We believe that the best way to determine where the USBs are most needed are through networking with various NGOs that deal with youth issues within the region. We have already developed relationships with a number of NGOs in Rwanda and we will expand our outreach beginning with Uganda and Burundi. The hope is that our program will become universally accessed.